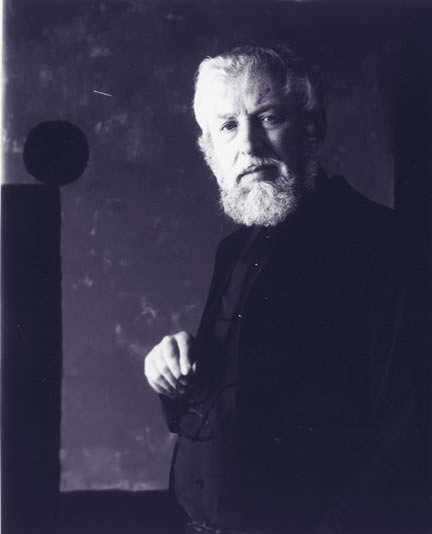 Geoffrey Clarke RA
1924 Born 28 November in Darley Dale, Derbyshire, UK
1948 Entered RCA (Silver Medalist in first year)
1951 RCA Chosen Exhibitor at Festival of Britain
1952 Exhibited Venice Biennial 'Young British Sculptors
1959 Open cast relief for Castrol House
1970 Elected Associate of the Royal Academy
1975 Elected Royal Academy
Geoffrey Clarke was born in 1924 into a creative family. His father was an architect and etcher with his own press which he encouraged the younger Clarke to use. Clarke's grandfather was a church furnisher, selling equipment and art, including stained glass windows, to churches in and around the Lake District. Etching, ecclesiastical art and art installations responding to architecture were all to become themes of Clarke's large body of work that followed his training.
After his short spells at Preston School of Art and Manchester School of Art in the early part of WW2, Clarke served in the RAF and with the occupying forces in Germany between 1943/6. Returning from Germany Clarke picked up his artistic career again with a year at Lancaster and Morecambe School of Arts and Crafts before enrolling in the Graphic Design Department at the Royal College of Art. The somewhat uninspiring graphics course caused Clarke to move into the Stained Glass Department, where his natural ability with the material drew Clarke to the attention of the Principal of the college Robin Darwin. One of Clarke's glass pieces completed in the first year won Clarke a Silver Medal, the only time that this had been awarded to a first year student.
Darwin encouraged Clarke to start working in iron sculpture, while at the same time his success in stained glass won him commissions in a number of churches around the country and most notably for four windows in Lincoln Cathedral. It was through recognition of his work at the RCA that Basil Spence chose the College workshop for the nave windows in Coventry Cathedral.
Clarke continued to explore materials and themes, moving to iron sculpture and wire-and-plaster sculptures, and also working on etching techniques on his fathers etching press, now installed in his Camden flat, where his interest in aquatint was developed.
This period of experimentation and searching led Clarke to the certainty that he wanted to use his art to influence people, in some way to become a 'public artist'. His research in the British Museum and Natural History Museum fed ideas about the centrality of art in man's spiritual life.
Clarke was chosen in 1951 to represent the Royal College of Art at the Festival of Britain. His piece was a combination of iron relief and stained glass titled Icarus. This was quickly followed by a number of exhibitions with other prominent young sculptors of his day, including exhibiting at the 1952 Venice Biennial, where he exhibited with the other 'Young British Sculptors' including Reg Butler and Lynn Chadwick.
In 1954 Clarke moved out of London to Suffolk. He exhibited less than his contemporaries partly because he lost touch with the group, and partly because he was now successfully moving into the production of architectural installations on the back of the post-war building boom. For approximately fifteen years following 1955 Clarke carried out around 50 commissions for buildings in a variety of materials and in some of the most significant buildings of the time. Clarke was now dealing with the problems of scale and material in production of iron relief sculpture, which became central to his work and formed the basis of many of his commissions. Having completed some commissions in iron, such as for the Time-Life building in Bond Street in 1952, Clarke was becoming dissatisfied with working in iron on an architectural scale. Clarke tackled the problems of creating large iron pieces with the same invention and creativity he had brought to his career to date, turning to aluminium as an alternative material for casting large pieces in manageable sections. This is where the open cast relief for Castrol House (1959) fits in Clarke's Oeuvre, one of four pieces from the same period, the others being the screens and reliefs for the Canberra and Oriana, two new P&O liners in 1961, and the foyer of the Nottingham playhouse in 1963.
Aluminium was a cheap material to work in, and had casting and installation advantages over iron. In addition though, Clarke was able to produce sculptures of great texture and finish, and with Clarke continued to work prolifically throughout the 1960s. In 1960 he discovered a method of working in aluminium using polystyrene, which worked in a similar way to a 'lost wax' method. He went on to complete a large number of commissions in this method, including works at Suffolk College, Coventry Cathedral and Bishop Otter College in Chichester. He was included also in a number of exhibitions throughout that decade.
Towards the end of the 1960s the architectural commissions started to dwindle and Clarke turned to another interest, sculpture in the landscape. He continued to work through the 1970s and 1980s and has continued exhibit throughout the past twenty years.